B20 – ITALY 2021 – THIRD MILLENNIUM RENAISSANCE
Studeo Group designed and built for Confindustria the first "phygital" edition of the B20 event which, in 2021, was awarded to Italy.
Studeo Group oversaw the preparation and direction of the physical opening and closing B20 event at the Auditorium della Tecnica in the Confindustria headquarters, remotely connecting thirty speakers of international calibre over the two-day event. The event was broadcast live in streaming on Sky, Bloomberg, Sole24ore, in addition to the web and social channels of Confindustria.
Studeo Group managed the videocalls of the eight contemporary task forces in which the main Italian chairs, with an international audience from over twenty countries around the world, discussed the eight main themes of the B20.
During the year 2021 Studeo Group organised and managed more than one hundred digital events for Confindustria as part of the B20: 4000 people, including the most influential personalities of the international economic and political world, connected from all over the world, including China.
Project and exhibition: Banficonsulting
In collaboration with Pomilio Blumm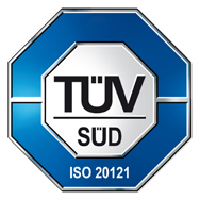 B20 is a sustainable event, ISO 20121 certified.